Motorcycle Accident Attorneys
Have you or a loved one suffered injury or death in a motorcycle accident? Contact the expert motorcycle accident attorneys at Mazow | McCullough, PC.
Massachusetts motorcyclists are protected under Massachusetts law. A Massachusetts biker involved in a motorcycle accident in Massachusetts may obtain compensation for his or her injuries that were caused by the other driver's negligence. Damages may include payment for pain and suffering, scarring, disfigurement, loss of enjoyment of life, economic loss, no fault benefits, and more.
It is important that motorcyclists understand that they are not covered by the same insurance coverage as automobile operators. In Massachusetts, insurance companies do not provide personal injury protection coverage for motorcycle riders. What this means is that if you are injured in a motorcycle accident, your motorcycle insurance coverage will not provide you any payment for your medical bills or lost wages under that coverage.
Motorcycles Are Everywhere
What Causes Motorcycle Accidents?
Most motorcycle accidents are the result of inattentive drivers on the road who are distracted or simply not careful in observing a motorcycle sharing the road. While there is nothing like the freedom of driving a motorcycle on the roadways, the injuries that can occur are often serious or life-threatening. If you are hurt in a motorcycle accident, you should contact the specialized motorcycle accident attorneys at Mazow | McCullough, PC, to begin working on your case right away.
Because motorcycle accident injuries can be so severe, it is imperative that an investigation into potential insurance coverage be undertaken as soon as possible. So often, the driver of the automobile involved in the collision (especially in a fatal motorcycle accident)  wants to blame the motorcycle driver for the crash. The sooner we begin an investigation into the cause of the accident, interview witnesses, obtain driving records, and gather phone and texting history, the better armed you will be to defeat the insurance company.
Types of Motorcycle Injuries
Motorcycle Accident Statistics
Download our FREE eBook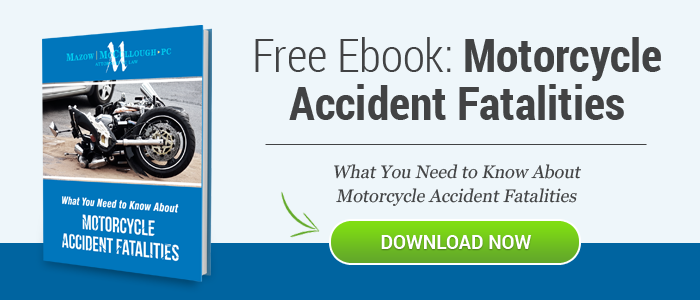 Insurance Coverage
Motorcycle Accident Resources
Top Safety Necessities for Motorcycle Riders
How to File a Motorcycle Accident Claim
Please contact Mazow | McCullough, PC, today for a free consultation about your case. The right lawyer makes all the difference. See our excellent results on our recent settlements page.