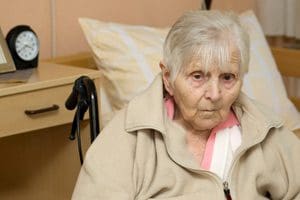 Nursing homes and aged care facilities are responsible for supporting some of America's most vulnerable persons: seniors. Unfortunately, some nursing home administrators disregard their responsibilities in order to save their facilities money, cut costs, or qualify for bonuses.
One of the most prevalent of these shortcuts is negligent recruiting. Here's what irresponsible hiring entails and how it might harm nursing home patients who are put in the hands of poorly trained or uneducated staff, and how to get legal help if your loved one is a victim of nursing home abuse.
Negligent Hiring Defined
Negligent hiring occurs when an employer allows an individual to work who does not have the skills, work experience, or qualifications to do so. This person is considered "high risk," meaning that they pose a potential danger to patients in a nursing facility setting.
A negligent hiring lawsuit is most commonly filed in cases where an employee's history indicates something in their background that should have disqualified them from the position had the employer conducted a thorough screening.
Looking At Negligent Supervision
Negligent supervision is related to claims of negligent hiring because they involve an employee's misconduct that may not have been predictable based on a background investigation, but that the nursing facility knew or otherwise should have known would happen.
For example, if a nursing facility's administrator knows that a caregiver and a resident are at odds with each other but still designates that nurse to work with the resident, a verbal argument could quickly escalate into a physical confrontation, causing the resident to become injured.
Another instance is if a supervisor notices a resident is missing items from their room while under the supervision of a particular caregiver but fails to examine the issue, the nursing home may be held financially accountable for the theft of those items.
Examples of Negligent Hiring in Nursing Homes
There are many ways that negligent recruitment can present itself in a nursing home setting. These include hiring an employee who:
Assaulted or stole from another person and had a felony conviction on their record that should have come up in a background check
Has an expired license or other certification and administers the incorrect amount of medicine to a patient, injuring or killing them
Was trained at a non-accredited facility and improperly performs CPR, resulting in a patient's death or injury
Is not licensed to practice in the state they were hired and injures or kills a patient
The Impact of Negligent Hiring
The health of patients may be jeopardized when administrators cut costs and participate in irresponsible hiring practices on a regular basis. Residents living in nursing homes and aged care facilities are already disadvantaged because they are entrusting their healthcare and well-being to physicians, nurses, physical therapists, dietitians, nurse assistants, and other facility employees.
The following conditions are some harrowing examples of the physical, mental, emotional, and financial abuse that a nursing home patient may experience as a result of negligent recruitment:
Broken bones
Skin lacerations or bruises
Traumatic brain injuries, including concussions
Humiliation and psychological damage
Depression and anxiety
Weight loss
Financial difficulties
Malnutrition and dehydration
Overdose
From a financial standpoint, irresponsible hiring may be costly to a nursing home, which may face litigation if a person is abused or neglected by an inadequate caregiver.
Holding Nursing Homes Accountable
When an organization knew or reasonably should have known about an individual's background but neglected to take the appropriate measures to consider the data when making recruiting decisions, they may be liable for professional negligence.
To bring forward a lawsuit for negligent hiring practices in Massachusetts or New Hampshire, an injured individual or their loved one must be able to demonstrate the following are true:
A proper inquiry by the employer would have shown the employee's lack of qualifications or unsuitability for the position which they applied or even employment in general, and
That it was unreasonable for the facility to hire the worker in consideration of the facts they knew or reasonably should have known.
The key issue here is foresight: responsibility for negligent employment is more likely land on the shoulders of the nursing home if these issues could be anticipated at the time the person was appointed.
In addition to nursing homes, facilities that may be held liable in cases where caregivers are responsible for the well-being of others include adult daycares, senior centers, and any other environment where the support of elderly individuals takes place.
Negligent Recruitment Prevention
Employers can prevent negligent hiring by engaging in the following recruiting practices in hospitals, nursing homes, doctor's offices, and other medical care facilities.
Every business, particularly nursing homes, must take numerous precautions to ensure that they are not recruiting unsafe staff members, such as:
Conducting a thorough criminal background investigation
Examining work and personal references
Authenticating college diplomas
Testing for drugs and alcohol use
Checking credit scores
Verifying driving records
Nursing homes and other aged care facilities have the responsibility to implement safe hiring practices that are designed to prevent the employment of dangerous or unskilled individuals in an elderly support environment.
How to Get Legal Help Now in Massachusetts and New Hampshire
If your loved one has been abused or neglected by nursing home staff, our law firm is ready to assist you in determining if there is proof of negligent hiring and employer liability.
At Mazow | McCullough, PC, we  have spent decades fighting for senior residents in Massachusetts and New Hampshire, and our team is ready to help pursue  appropriate reparations for the losses your elderly loved one has endured.
Consultations with our legal team are free and private, and you are under no commitment to pursue a lawsuit afterward. When you work with us, we secure your loved one's compensation on your behalf before charging any legal fees. Contact us today at (978) 744-8000 or toll free at (855) 693-9084.